The third volume of the continuing DC Omnibus series for Wonder Woman will be available on November 13, 2018. Wonder Woman: The Golden Age Omnibus Vol. 3 collects a run of Golden Age Wonder Woman issues from
Sensation Comics #49-69, Wonder Woman #16-25 and Comics Cavalcade #14-22. These volumes are a fantastic way to acquire these issues without having to pay the incredibly high prices the originals would cost.
Google
The blockbuster film Avengers: Infinity War is currently available in High Definition streaming on Amazon.com. The Blu Ray version will be available for sale on August 14, 2018.
The Overstreet Comic Book Price Guide #48 (2018/2019 Version) is currently available for sale on Amazon.com. This is the comic book collecting industry's #1 source for information on almost every comic book ever published and their values. It is an indispensable resource on the collecting hobby which is used by just about every comic book buyer, seller and trader. Not only will you be able to find important details on all of the key issues within every title and the most relevant artists and writers who created and worked on them - first appearances, origins, death issues, anniversaries, weddings and more, but you'll be able to check on the latest prices for your collections and trends in the hobby.
The long-awaited animated movie adaptation of The Death of Superman will be available on August 7, 2018. The original comic book stories from the 1990s were amongst comic book's best selling of all-time. Husband and wife team of Jerry O'Connell and Rebecca Romijn provide the voices of Superman and Lois Lane.
Ms. Marvel #1 featuring the first appearance of Ms. Marvel has been amongst one of the hottest books on the market ever since it was announced that a Captain Marvel movie would be produced by Marvel Studios. That film is due in theaters in March, 2019. The alter ego of both Ms. Marvel and the Captain Marvel in the upcoming film is one and the same-Carol Danvers so there's a definite correlation. Collectors have been shifting towards 1970s key collectors books as a many of the key books of the 1960s have really reached a lofty price that is beyond most collectors. mycomicshop has several copies of Ms. Marvel #1 in stock now in both non-certified and certified condition.
The first full appearance of Venom in Amazing Spider-Man #300 drawn by fan favorite Todd McFarlane has been gaining steam for some time and will only continue to gain steam with the first motion picture devoted to the character coming in October, 2018. Venom of course made his first motion picture appearance in Spider-Man 3 a few years ago as one of a couple of Spider-Man's antagonist in that film. mycomicshop has several copies of Amazing Spider-Man #300 in stock now in both non-certified and certified condition.
The Batman The Complete Animated Series will be coming to high definition Blu-Ray DVD in October, 2018. The award-winning series has been available on regular DVD for years in individual seasons and bundled together to form a complete series package.
This is the first time the series will be produced on Blu-Ray DVD and will have a large amount of special features and documentaries including two of the Batman Animated Series films - Batman: Mask of the Phantasm and Batman & Mr. Freeze: SubZero. The set is a limited edition product and pre-orders are currently being taken now.
The hot Star Wars Black Series 6 inch Stormtrooper (Mimban) figure from Solo: A Star Wars Story has been really tough to find in stores. It was originally a Walmart exclusive. I found a listing on Ebay that has a few in stock. It is being sold by a seller outside of the US, but seems to have very good feedback. Also I came across the soon to be released 3.75 inch version of the figure in the Vintage Collection line. That figure should be in stores in the fall, but as you can see from the buying history a lot of collectors aren't going to wait and are purchasing now instead of having to work to find it at retail.
One of the trending books on the collector market the last year and a half has been X-Men #266 which features the first full appearance of Gambit (one of the X-Men). The prospects of a major motion picture starring Channing Tatum as Gambit has been in the planning for some time now. Additional interest has been fueled for this reason. mycomicshop has several copies of this issue in both CGC and non-certified in stock now.
Amazon.com has a special sale on the Star Wars Millennium Falcon vehicle/playset from the Solo: A Star Wars Story movie. It has special sound effects and lights. The item has been marked down to $52.49 as of July 16, 2018. This is a special deal that lasts for only 1 day and has free shipping.
The latest Star Wars 6 inch Black Series wave of figures consisting of Han Solo in Bespin outfit, Rebel Trooper, Tobias Beckett and Grand Moff Tarkin are showing up on Ebay ahead of many of the online retailers. I found a seller that has several lots of the 4 key figures from this wave which are selling out fast.
The flagship title of Marvel Comics is Fantastic Four #1. Last few years collectors have been going after Amazing Fantasy #15 and Hulk #1 and driving up prices for those 2 books all the while passing up the title that started it all. Here's a solid copy at a reasonable price for a key issue.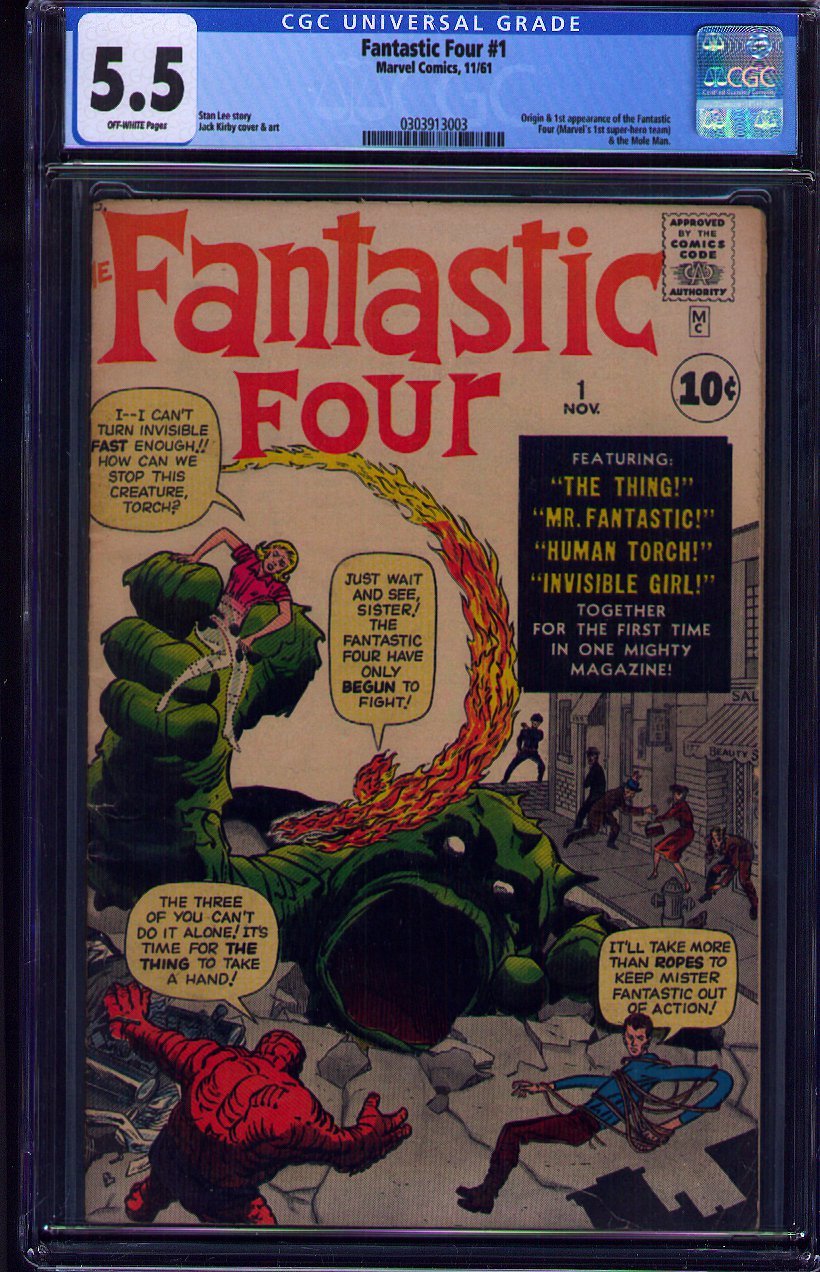 Hot Toys and Sideshow Collectibles are teaming up to produce the first Marvel Studios: The First Ten Years Sixth Scale Collectible figure. The figure is based on Marvel Studiosí Head of Visual Development, Ryan Meinerdingís concept art of Captain America from the movie Captain America: Civil War. The Marvel Captain America Concept Art Version Marvel Sixth Scale Figure will be available the fourth quarter of 2018 (between October and December). Pre-orders are currently being taken.
The flagship Marvel Comics title the Fantastic Four will be returning to publication after a couple of years of having been canceled. The first issue is due in comic book shops in August, 2018. The latest action figures based on the four main characters have slowly been released over the last year and a half at Walgreens stores nationwide. Initially the Invisible Woman was released followed by Mr. Fantastic then the Human Torch with the Thing being the last figure in the series. I found a set of the first three on Ebay at a reasonable price considering these have sold out at Walgreens. The Thing is currently found overseas and will eventually make its way to the US.
June 2018 represents the 80th birthday of Superman. Jerry Siegel and Joe Shuster created one of the most famous and iconic characters ever. His landmark debut in Action Comics #1 in June, 1938 started the superhero genre and forever changed the comic book world and pop culture. Here's a very intriguing listing on Ebay which consists of CGC graded copies of Action Comics #1, Superman #1 (both of which are reprints) along with original copies of Superman #4, 5 and 6.

Speaking of Ant-Man. The actual Ant-Man character that actor Paul Rudd portrayed in the first
Ant-Man film and in the upcoming second film is Scott Lang who made his first appearance in
Marvel Premiere #47 drawn by legendary artist John Byrne. This issue has seen significant movement in the collector market for the last few years. mycomicshop has several copies in stock that will accommodate anyone's budget.
One of the most overlooked key Marvel Comics first appearances of the Silver Age is Tales to Astonish #44 (TTA) featuring the debut of the Wasp (Janet Van Dyne). By comparison to her male counterpart the Ant-Man's first appearances in Tales to Astonish #27 and #35 (first time in costume) is multiples more expensive. I found one of the highest graded copies of TTA #44 currently up for sale. With the Ant-Man and the Wasp movie coming to theaters on July 6, 2018 interest will only increase for these characters' first appearances.
The first time Boba Fett made his world wide debut was on TV during the Star Wars Holiday Special in a short animated feature in 1978. The look was very distinctive with cool-looking colors. The costume colors was updated for his movie debut in The Empire Strikes Back. Hasbro and a couple of other manufacturers have made versions of this figure in past years. Now Hot Toys has produced the very first 1/6th scale (12 inch) figure of the Boba Fett animated look. Perusing through Ebay I found a listing that is actually cheaper than found on most web sites across the internet.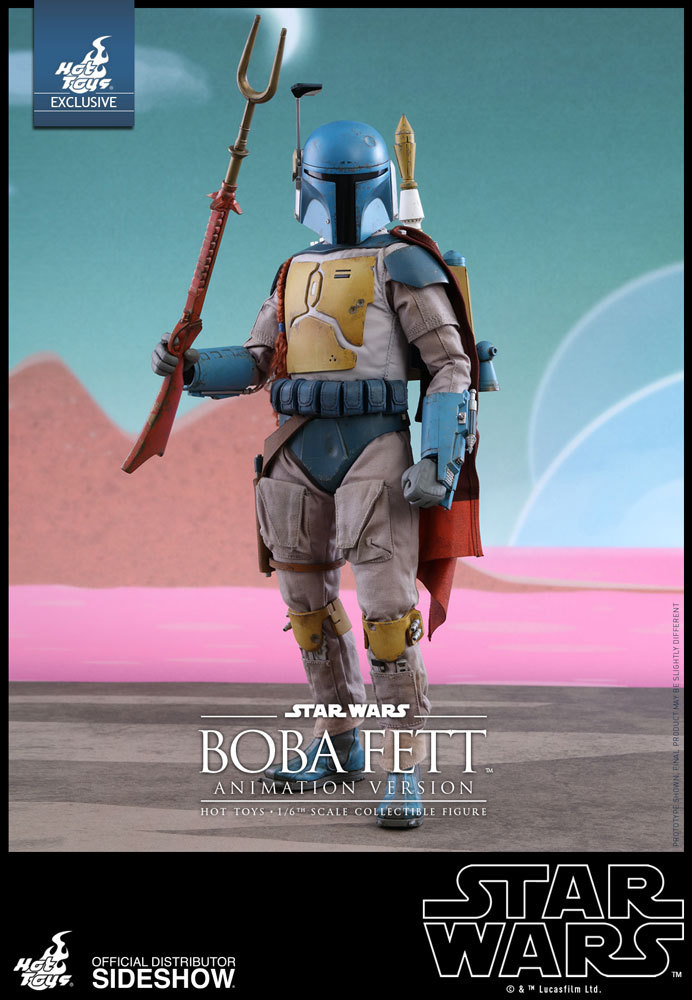 Specific Star Wars Jabba the Hutt palace and sail barge related figures have seen considerable interest ever since Hasbro Labs confirmed it will be producing the Jabba Sail Barge Khetanna for a 2019 release. I have sold several of these associated figures in recent months. The Lando Calrissian in Sandstorm Outfit from the Vintage Collection being one of the most sought after.
Here's an Ebay auction (left image) which I found listed with bidding to end on July 4, 2018. There are other examples which are listed in Ebay seller stores so you don't have partake in bidding (right image).
The blockbuster Marvel Studios film Black Panther will be available on Blu-Ray DVD and DVD on
May 15, 2018. The film stars Chadwick Boseman, Michael B. Jordan, Lupita Nyong'o, Danai Gurira and Martin Freeman and features Marvel's first black superhero created by Jack Kirby and Stan Lee in the 1960s. The film takes place in present day and continues the long line of Marvel Studios films representing their rich history of characters.
DC Comics has released their newest animated movie on May 8, 2018 called Batman Ninja utilizing the familiar representation of Batman in Japanese anime style. The film features the Joker and Flash villain Gorilla Grodd with the film set in Japan's ninja medieval age.
Deadpool 2 is due in theaters on May 18, 2018. Two of the hottest Marvel characters in the film have seen a lot of activity for their first appearances in the last few years. Cable and Deadpool's appearances in the New Mutants title have seen considerable price increases and will only continue to be fueled by many fans anticipating the upcoming film's release. Cable first appeared in full in New Mutants #87 in 1990 and Deadpool debuted in New Mutants #98 in 1991 along with two other significant characters Domino and Gideon. The after market prices for these issues have seen significant price jumps in recent years. They will continue to garner more interest with the upcoming Deadpool movie that will introduce Cable. More and more collectors will be drawn to these books and new collectors joining the hobby/industry will follow suit. Mycomicshop features multiple copies of these books in certified and uncertified grades in various conditions so there will be plenty to choose from.
With the pending release of the major motion picture Avengers: Infinity War in theaters on April 26-27, 2018, there are a plethora of graphic novels featuring one of the most powerful super-villains in comics who is the primary antagonist in the film. Avengers vs. Thanos trade paperback covers Thanos' most important appearances including his first appearance and origin issues and battles against the Avengers. There is of course the popular Infinity Gauntlet and Infinity War graphic novels covering those two landmark mini-series that the film draws a lot of its influence from. Infinity Gauntlet has been so popular it has sold out in many versions. There are a few different forms available and by clicking on that image you'll be able to see the various books and issues that are still in stock.
The Blu Ray DVD of Star Wars: Episode VIII The Last Jedi will be available on March 27, 2018. This is the latest chapter in the Star Wars Saga starring Daisy Ridley, Mark Hamill, Adam Driver, John Boyega, Oscar Isaac and the late Carrie Fisher.
Star Wars: Episode VII The Force Awakens makes its television network debut on March 26, 2018 on TNT. Check your local schedule for exact show times.
The Krypton series debuts on the Syfy Channel on March 21, 2018. Check your local schedule for exact show times. This series will explore life on Superman's planet well before Superman came to be (approximately 200 years before). It's an exciting look into the House of El and their legacy on the planet with intriguing possibilities as we'll see the Zods and other key players in the Superman mythology. Brainiac is reported to be a major player in the series.
Justice League starring Ben Afleck, Henry Cavill, Gal Gadot, Jason Momoa, Amy Adams will be available on Blu Ray DVD on March 13, 2018. This is DC Comics' first superhero team film and ties in with the previous DC Comics superhero films like Man of Steel and Wonder Woman along with upcoming films like Aquaman later in 2018.
Thor: Ragnarok starring Chris Hemsworth, Tom Hiddleston, Cate Blanchett, Idris Elba and Jeff Goldblum is available on Blu Ray DVD. This is the third film in the Thor film franchise.
Sideshow Collectibles is taking pre-orders for their upcoming 1/6th scale action figure of Batman. Collectors know how quickly previous DC Comics Batman characters that they've produced in the same scale have sold out quickly like Joker, Harley Quinn, Catwoman as well as their initial Batman figure. This is a newly designed release. It is estimated to be available in late 2018.
Hasbro Toys has created a new platform called HasLab in order to produce items that fans have been dreaming about, but due to restrictions would not typically come to fruition at any of the typical venues like Walmart or Toys R Us due to costs and other logistics. They have initiated their first project needing 5000 backers to bring to life the Jabba Sail Barge (Khetanna) from Star Wars Return of the Jedi in 2019. The deadline to meet the threshold is April 3, 2018. If 5000 buyers commit to purchasing this item by that date and time of 11:59 EST, then the project will become a reality and the final product will be released on or about February 28, 2019. You'll receive a 64 page booklet detailing a behind the scenes preview of the design and conceptualization for this massive ship. It's estimated to be over 4 feet in length, over 14 inches wide and 17 inches high, weighing closed to 14 lbs. The booklet will be released ahead of the final product and should be in the hands of committed buyers in April, 2018. Should the levels not be met by 11:59 EST on April 3, 2018 the ship will not be produced. There are plenty of photos circulating around the Internet taken from this past weekend's Toy Fair giving attendees a very good idea of what the final product may look while HasLab's web site is currently showing pre-visual photos before Toy Fair.
The Batman: Gotham by Gaslight Blu-Ray DVD is currently available for sale on Amazon.com. This is the first animated adaptation of the best selling graphic novel from 1989. It is an elseworld story where Batman is featured in a period piece during the late 1890s and has to solve and ultimately confront the legendary Jack the Ripper.
The Black Panther movie is due to be released in theaters on February 16, 2018. There has been strong demand for his first comic book appearance in Fantastic Four #52 from 1966. The issue has been red hot in the collector/investor market. mycomicshop has several copies currently in stock as well as his origin story in the next issue - Fantastic Four #53.
The CW Network debuted a new TV series on January 16, 2018 called the Black Lightning based on the DC Comics hero from the 1970s created by Tony Isabella. This should draw renewed interest in his first comic book series from 1977.
The Batgirl Omnibus will be available on December 26, 2017 covering some of Batgirl's most prominent issues since her beginning in Detective Comics back in the 1960s. The book reprints her stories from Detective Comics #359, 363, 369, 371, 384, 385, 388, 389, 392, 393, 396, 397, 400, 401, 404-424 - Batman #197 - Batman Family #1, 3-7, 9-11 and is 504 pages long in full color.
Star Wars Episode VIII The Last Jedi opens in theaters on December 14, 2017. The eagerly anticipated sequel to Star Wars Episode VII The Force Awakens debuts nationwide comes just as official news that its parent company the Disney Company has acquired 21st Century Fox for $52 Billion. This will further expand future film and TV projects joining together with Disney's already owned properties from their acquisition a few years ago of Marvel Studios. Some of 21st Century Fox's film properties include Marvel comic book icons the Fantastic Four, the X-Men and Deadpool which has comic book fans imagining of future Avengers films for example with these Marvel characters.
Low quantities are available for the Star Wars Darth Vader Pewter Figurine by Royal Selangor. The edition size is only 5,000. You can find them on Sideshow Collectibles while supplies last.
Sideshow Collectibles has a promotional sale on the Hot Toys 1/6th Scale Star Wars First Order Stormtrooper at 30% off. No date on when the sale will end.
Hot Toys is producing a number of items from the successful Justice League Movie in theaters with the Wonder Woman 1/6th scale masterpiece figure amongst the most highly sought after item. It is currently available for pre-order.
Sideshow Collectibles has quite a number of products as part of their Black Friday 2017 sale. Check them out for great savings on a number of Star Wars - Marvel - DC and other theme products.
Disney announced that they will be making a new Star Wars Trilogy that is independent of the current Star Wars Trilogy that George Lucas created back in 1977 focusing on the Skywalker family. They have appointed the current writer and director Rian Johnson who worked on the upcoming Star Wars Episode VIII The Last Jedi due in theaters on December 15, 2017 to produce the new series exploring new characters and other parts of the Star Wars galaxy that have not been touched upon before.
Spider-Man: Homecoming starring Tom Holland, Michael Keaton and Robert Downey Jr. will be released on Blu-Ray DVD and DVD on October 17, 2017.
Hasbro will be producing a retro-style set of figures based on the Marvel Legends series of 6 inch figures. The figure packages are reminiscent of the ones produced by Toy Biz back in the early 1990s. The initial series will feature Spider-Man, Wolverine, Iron Man, Black Widow, Captain America and the Punisher. They're expected to be released in December, 2017 into early January, 2018. Preorders are currently being taken.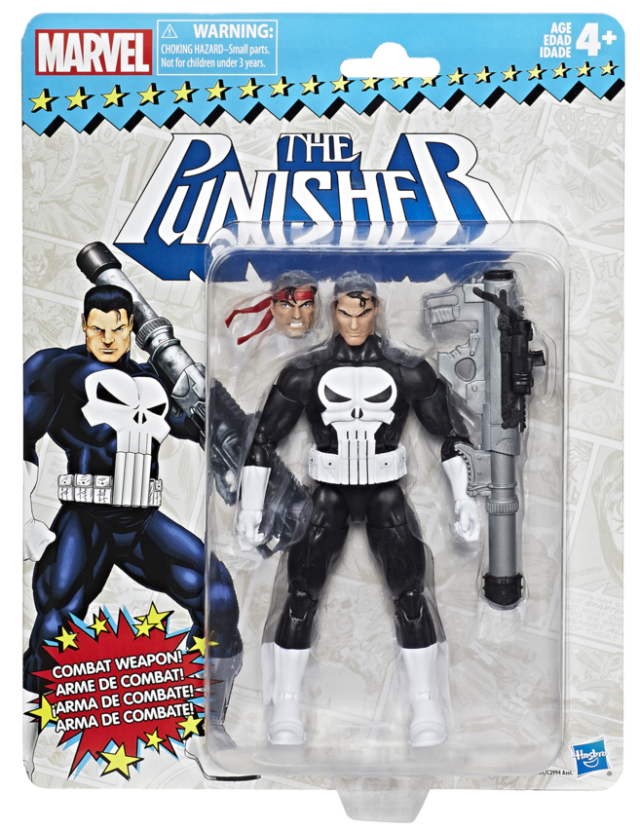 Transformers: The Last Knight is available on Blu-Ray DVD and DVD. The film is the latest in the Transformers series of movies starring Mark Wahlberg, Anthony Hopkins, Josh Duhamel.
Superman the Movie Extended Cut starring Christopher Reeve, Marlon Brando and Gene Hackman will be released on Blu Ray DVD on October 2, 2017. This is an updated version of the original film that contained additional scenes on Krypton, Smallville and Metropolis. Some of those scenes were included in a TV release which was last seen by audiences on ABC TV in 1982. Director Richard Donner and other artists have worked to create the extended version for home video release to blend in all of the additional scenes making this version of the film run over 3 hours. This release will also include the Superman the Movie Special Edition which also had additional scenes added to the theatrical version and has been available in other home video release packages in past years.
Star Wars 40th Anniversary Black Series 6 Inch Wave 2 is in production again by Hasbro and several retailers online are taking pre-orders for an estimated 2018 delivery. These figures had long sold out earlier this year. This may be the only opportunity to acquire these figures at a reasonable price before buyers have to turn their sights on the after market which has been the alternative since these series of figures were so difficult to find at their favorite stores.
Walgreens has an exclusive Human Torch Marvel Legends figure from the Fantastic Four. The figure is available on their web site and as of September 25, 2017 it is discounted at $16.99 (a savings of $3).
Superman the Movie starring Christopher Reeve, Marlon Brando and Gene Hackman back in 1978 will have an extended version released in its complete form on Blu-Ray DVD coming in October 2017. The film was originally shown on television in two parts on ABC back in 1982 and contained many scenes not featured in the theatrical version of the movie including extended footage on Krypton, Smallville and Metropolis. Director Richard Donner and other artists have worked to create the extended version for home video release to blend in all of the additional scenes making this version of the film run over 3 hours. Many sites have written about this upcoming version. Here's one of those sites.
The Wonder Woman movie starring Gal Gadot and Chris Pine will be available on Blu-Ray DVD and DVD on September 19, 2017.
Some of the toughest to find earliest appearances of the Punisher have been collected into one volume called Punisher Back to War Omnibus. This is the first time these Punisher stories have been a part of the Marvel Omnibus series and here you'll be able to obtain his most expensive issues without paying the current collector market prices for the original comic books. Issues contained in the book are amongst his most popular including Amazing Spider-Man #129 (1st appearance of the Punisher), 134-135, 161-162, 174-175, 201-202, Amazing Annual #15, Giant-Size Spider-Man #4, Marvel Preview #2 (Origin of the Punisher), Marvel Super Action (1976 Magazine); Captain America #241, Daredevil #182-184, Spectacular Spider-Man #81-83 and Punisher Mini-Series #1-5. The book is currently available on mycomicshop.
Star Wars Force Friday II will be celebrated by several major retailers including Toys R Us, Target, Wal-Mart, GameStop on September 1, 2017. Most Toys R Us and Target stores across the nation have scheduled to open their doors at midnight-12:00 AM on September 1, 2017 for up to two hours in order to allow customers to come in and purchase the latest Star Wars merchandise as it pertains to the next Star Wars film The Last Jedi due in theaters on December 15, 2017. There will be plenty of other Star Wars goods related to the other films as well.
Guardians of the Galaxy Vol. 2 will be available on DVD and Blu-Ray on August 22, 2017.
Hot Toys has released photos of their upcoming 1/6th scale figures of Grand Moff Tarkin and a new Darth Vader from the original Star Wars film from 1977. The details and accessories for both figures are exquisite. You can pre-order the figures on Sideshow Collectibles web site for a third quarter 2018 release. You can purchase Grand Moff by himself if you don't want to acquire both figures. No details are currently available on the Darth Vader by himself so if you want to acquire him, you will have to purchase the two figure set.
mycomicshop has a comic book auction listing a number of issues from the Golden Age, Silver Age, Bronze Age and more. The auctions end on August 7, 2017. For a complete listing check them out here.
Hot Toys will be producing a 1/6th scale version of Thor from the new movie Thor Ragnorok due in theaters in November, 2017. The figure - Roadworn Thor is available for pre-order for a 4th quarter 2017 release.
Sideshow Collectibles has released a preview image of their upcoming 1/6th scale Batman figure that they will be producing. Click on the image to head to their site and sign up to receive updates on when this figure will be released.
Toys R Us has a sale on Marvel Legends Infinite Series 6 inch figures at $5 off. They normally retail for $19.99 so they will be on sale for $14.99 from July 16, 2017 to July 22, 2017.
Toys R Us has a sale on Star Wars Black Series 6 inch figures at 2 for $20. The sale runs from July 16, 2017 to July 22, 2017.
Toys R Us has a 30% off sale on select Star Wars lightsabers including the Luke Skywalker, Darth Vader and Kylo Ren Black series electronic lightsabers. Head on over to their site to take advantage of these great savings.
Amazon has an exclusive set of Spider-Man figures including Spider-Man, Kraven, Vulture, Sandman, Doctor Octopus, Electro and Mysterio comprising of Spidey's battle against the Sinister Six. The figures are in the 3.75 inch scale and come in retro Toy Biz packaging reminiscent of their presentation style that the former manufacturer who produced Marvel figures in the early 1990s. As these are imports and exclusive to Amazon, they are expected to be limited in availability.
The Wonder Woman movie starring Gal Gadot, Chris Pine and Connie Nielsen is due in theaters on June 2, 2017. As a promotion Sideshow Collectibles is giving away a free Wonder Woman Premium Format figure in a contest running through June 8, 2017. Details can be found here - Wonder Woman Premium Format Figure Giveway.
For the first time on Blu-Ray DVD comes the complete series of the classic animated series from the 1960s - Speed Racer. The series has long been out of production on other forms of video. The Blu-Ray set will be available on May 30, 2017.
May 25, 2017 represents the 40th anniversary of Star Wars. It was 1977 on this date when Star Wars first graced movie screens in limited cities in the US - 32 to be exact in its initial run. The film went on to become the highest grossing film of all-time and remained so for the next few years. It remains today amongst the highest grossing films of all time. It has since gone on to be one of the most influential films in history and spawned multiple sequels and other film and TV productions and an international brand with a plethora of products and merchandise that continue to fuel the interest of long-time fans and adding new fans and followers from all over the world. May the Force Be with you. Always.
In what is billed as the last Wolverine appearance by actor Hugh Jackman. Logan starring Hugh Jackman and Patrick Stewart as Professor X for perhaps the last time as well makes its way to Blu-Ray DVD on May 23, 2017.
Rocket the Raccoon from the Guardians of the Galaxy Vol. 2 will be produced in a 1/6th scale figure from Hot Toys. The figure is scheduled to be released in 2018 and pre-orders are currently being taken.
The first Wonder Woman movie will make its debut in theaters in June, 2017 starring Gal Gadot and Chris Pine. One of the inspirational Wonder Woman comic book series that many of the recent DC writers and artists have drawn upon for their renditions of the character that came from the 1987 series created by long time artist George Perez. That series helped re-write the origin of the Amazonian and her homeland and updated the character and her adventures to modern times from its golden age roots and a 1970s attempt to revive the character with a feminist direction. mycomicshop has several copies of the first issue and other issues in the series in various affordable grades and prices. You can also acquire the two omnibus volumes that contain the first several issues from that series.
Sideshow Collectibles has produced a maquette depicting the famous 1974 first appearance of Wolverine battling the Hulk from Hulk #181. The piece is limited and will be available in April/May, 2017. Preorders are currently available for this massively impressive piece which will come with two different classic Wolverine looks. One will depict is exact look from that issue and the other is his more famous look that Dave Cockrum and John Byrne embellished on when the character appeared as part of the New X-Men issues.
Rocket Raccoon's comic book appearances has drawn amazing interest since he appeared in the first Guardians of the Galaxy motion picture a couple of years ago. As the next Guardians movie makes its debut in theaters in May, 2017, the enthusiasm for his first two appearances in Marvel Preview #7 and Hulk #271 remains on par with that of Deadpool and Cable respectively. Comic book films tend to give a real boost to any characters significant issues and this next film should be no different. mycomicshop currently has both books in their inventory in various conditions at prices that are reasonable for any collector.
Captain Phasma is expected to have a larger role in the upcoming film Star Wars Episode VIII The Last Jedi. Her 1/6th scale figure is currently available, but as in most productions by Hot Toys are made in limited quantities and sell out. This may be your only opportunity to acquire the figure before it hits the after market and sell for much higher.
With the upcoming release of Guardians of the Galaxy Vol. 2 in theaters on May 5, 2017, the interest in their first comic book appearance continue to increase. mycomicshop currently has several copies of the highly sought after book Marvel Super-Heroes #18 from 1969 to fit in most collector's budget.
Rogue One: A Star Wars Story will be available on Blu-Ray DVD and DVD on April 4, 2017. It is currently available in High Definition for download.
The iconic Wonder Woman as portrayed by actress Lynda Carter in the 1970s TV series will be represented in a brand new statue/maquette produced by Tweeterhead coming late summer/early fall 2017 (July-September). It will have a real like appearance of the actress standing on a star base in a classic pose deflecting bullets off her bracelets.
Doctor Strange starring Benedict Cumberbatch in the title role will be available on Blu-Ray DVD and DVD on February 28, 2017. This is the latest in the Marvel Universe of movies produced by Marvel Studios to be available after its successful theatrical release.
Hot Toys is further gearing up for the upcoming Star Wars film - Star Wars Rogue One: A Star Wars Story with a large assortment of figures. The highly coveted Stormtroopers will be amongst the most sought after. Pre-orders are currently being taken now.
Google